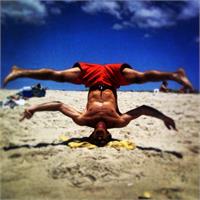 Sun

Date: 3/31/2019

From: 2:30 pm – 4:30 pm
March 31st
2:30pm – 4:30pm 

Join yoga instructor Gene and hand balancer Elise for a 2-hour All-Levels workshop that will help you Find & Maintain – your BEST inversions!
This workshop is dedicated to all things upside down. The first hour will focus on yoga inversions such as headstands and forearm stands, while the second hour will focus on arm balances and handstands. Get ready to play!
Throughout the workshop, we will cover some of the basics of being upside down, including: how to invert your body safely, what proper alignment looks AND feels like, and correct wrist mobility. You will play with spotting and partner work and will learn how to bail (aka – how to fall) safely and with gleeful abandon! We will also provide many mobility and strengthening drills you can take home with you.
This workshop will benefit you if you're interested in cultivating a practice that combines both yogic inversions and hand balance skills. Gene and Elise are passionate teachers who are excited to offer their vision, best practices, tips, exercises, and tricks.
Get ready to laugh, challenge yourself, find your breath, and discover your unique upside down space with a group dedicated to supporting each other's individual journey.
What to Bring: A willing heart and an open mind, in addition to a yoga mat, materials with which to take notes (if desired), workout clothing, a light snack, and a bottle of water.
INVESTMENT : 
$38 PRE BOOK 
$48 after 3/21